Affordable
We believe on providing a quality rubbish removal service in Sydney area at an affordable price. We are Cheapest Load of Rubbish
Trusted
Our fully insured operation has been in business for 28+ years. Making us the credible choice for rubbish removal with professionalism at its core.
Convenient
Our large fleet of trucks and same day rubbish removal service provides Sydney with a fast and efficient way of removing rubbish.
Environmental
We take a sustainable approach to rubbish removal in order to better our future generations.
Sydney Rubbish Removal Service
Whether you're building, renovating, moving house, preparing to sell your home, or just spring cleaning—we make it easier than ever before. With some beneficial
rubbish removal tips
, we come to you to collect rubbish, anywhere in Sydney, in order to
take away rubbish removal
on time. We do believe that our hard rubbish removal will anyhow be helpful in recycling the wastes that in turn make environment sustainble. That's why we do all the work for you and take it to the recyclers. We break up, flatten and load all your dirt rubbish into our truck and, take it to the recyclers. And we do it all for a price that will make you wonder why you ever wasted your time dumping rubbish to trailers and
skip bins
.

Make a fresh start in 2018
Got that pile of 'stuff' to sort through 'one day'? A new year is a great time to turn 'one day' into today. If you can sort your trash from your treasure, we'll take it from there!

Clean up with a clean conscience
Recycling is important to Sydney's bright, clean future. We sort your rubbish and recycle as much as possible.

Rubbish removal Service Covers all of Sydney
With our depot in Kingsgrove, our Rubbish removal Service reaches all Sydney suburbs.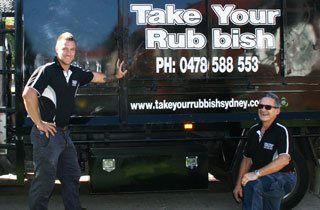 A note from Mike and Wes:
If our website hasn't answered all your rubbish removal questions, don't hesitate to give us a call and have a chat. We're a friendly, family owned business and we're here to help you. We won't make you feel small for asking a simple question, or fob you off because the job is too small. Every customer is an important customer in our book, no matter how big or small the job. For one, we reckon that's just good business—if you're happy with our service, we hope you will tell your friends. Secondly, it's a personal philosophy—of excelling in all that we do, and being of service to the Sydney community.
Sincerely

Michael Coates and Wesley Frith